What an incredible week it has been in Malibu! Chris did a great job of finding us an awesome place to regroup after our move from Seattle! What are you up to this weekend? We are heading to Europe for 2 weeks! The trip starts with a cruise out of Rome to Greece and Turkey. Then we tour Rome for a couple days and then off to Paris for a few days! Wow! I will have daily posts throughout with some guest posts too! When we get back there will be lots of great vacation photos to share!
Here are the highest fives of the week!
1. These views out of our rental condo patio in Malibu.
2. These rings I saw a woman (Suzie LeQ) laying out on a table and organizing at a restuarant called Plate in Malibu. I asked her about them and she said she makes them and sells them to a local boutique down the street. They will also be featured in Fashion Week. She was so nice and I got to buy some from her! Then her friend said she has space available for an acupuncturist to rent in Santa Monica! Double score! Here's an article I found on Suzie LeQ's line, Rossmore, on Refinery 29: Kate Bosworth And Reese Witherspoon's New Fave Jewelry Line, Rossmore.
3. Discovering the existence of this food truck in L.A.
4. Finding these gorgeous earrings the day before we go on our trip! I think they will look nice with the wedding dress in Paris!
5. This Ninja Penguin tin foil leftovers pouch made for the table next to us at Gladstone's.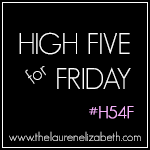 Have a great weekend!