Hope your week has been incredible! We're all expecting much needed rain in SoCal but it's been looking like this!
Here are some toppers from the week…
1. Oh I'm going to make this trip to San Diego this weekend! I'm ready now! There is some great friend time ahead. I just have to take it easy and try not to kill myself seeing every person I miss from living there!
2.. I did a little guest post/intro on the very kind, lovely and majorly organized Jade and Oak today. Please check it out! Her pugs are amazing and enviable. There will be a group giveaway on the blog this coming Tuesday.
3. If you follow me on Instagram, you know I've picked up this new Rifle Paper Co. pad this week and It's changed my life! You can find a similar one online here. I purchased this one (and another as a gift) at the store. Trust me, there may be one little thing on this list in the photo but this thing is packed now!
4. It's warm enough for smoothies in LA and this was my fave of the week: bleuberrry, banana, greek yogurt and chia seed. Fun drinks make up a bit for the cocktails I miss sometimes. 🙂
5. On one of the morning walks this week I was in SUCH an energetic and great mood. I was nonstop talking and pointing. "Look, 4 birds!" Chris looks up, half asleep and says flatly, "five birds." Awkward. What's wrong with me!? I've got to get better at counting if I'm going to be a mom.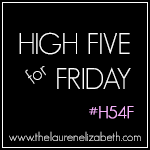 Hey, have a great weekend. I want to know what you're doing! Leave me a comment so I can get to know you!